Outside Staterooms with Open Veranda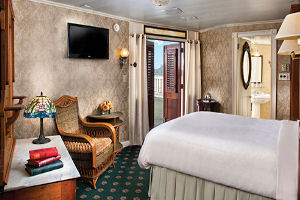 Category C
Settle back on the couch in your sitting area, throw open the French doors to the deck, and greet the day as the banks of the river slip majestically by, just out of reach. Some staterooms in this category welcome you with a view of the paddlewheel, while the highest guest deck offers expansive views of America's Heartland. 140 to 190 sq. ft.
Deluxe Outside Staterooms with Bay Window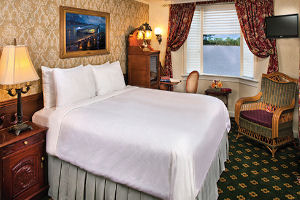 Category D
Not only do these staterooms take you back in time with décor reminiscent of a turn-of-the-century bed and breakfast, you'll have the added joy of an expansive bay window overlooking the ever-changing scenery of America's Heartland. Go ahead and curl up in front of the window with a new novel and savor a moment that belongs to only you. 190 sq. ft.